The other day I discovered Amazon's Matchmaker. It tells you which of the ebooks you own have audible companions and what the price is. I'd known you could get audible versions of your kindle books at a discount, but I'd not found any convenient way to see which books were being offered. It was exciting to come across the solution and I went through my list and purchased several inexpensive Audible books.
I wish I didn't have to aim for the inexpensive ones. I just read a blog post by Nora Roberts, in which she talks about readers who demand cheap books and how that devalues the work authors put in (among other things). Now, she was talking about people who take advantage and harass authors, not readers who look for a sale. But either way, my book budget is what it is and, while I utilize my library and buy books where I can (so authors do get some profit), I definitely don't buy many at full price, utilize the free lists and keep an eagle eye on the sales. I feel guilty about it sometimes.
Outside of price, a side bonus of getting audio copies of ebooks I already have is that it's also a great way to chip away at my very long TBR list. This year is turning into the year of the audiobook. I've listened to far more than I've physically read. This lets me listen to them without adding a new book to the list. It's just a great solution for me.
So, onward and upward. The first of the Audible book buying binge books I listened to was Southern Spirits, by Angie Fox. I initially picked this ebook up as a freebie in 2016. I'm pretty sure it's perm-free.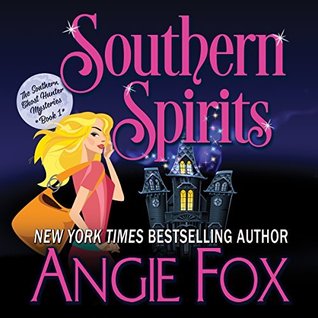 Description from Goodreads:
When out of work graphic designer Verity Long accidentally traps a ghost on her property, she's saddled with more than a supernatural sidekick—she gains the ability see spirits. It leads to an offer she can't refuse from the town's bad boy, the brother of her ex and the last man she should ever partner with.
Ellis Wyatt is in possession of a stunning historic property haunted by some of Sugarland Tennessee's finest former citizens. Only some of them are growing restless—and destructive. He hires Verity put an end to the disturbances. But soon Verity learns there's more to the mysterious estate than floating specters, secret passageways, and hidden rooms. 
There's a modern day mystery afoot, one that hinges on a decades-old murder. Verity isn't above questioning the living, or the dead. But can she discover the truth before the killer finds her?
Review:
Shallow, but a perfectly passable bit of fluff. It was readable, entertaining and I liked the main character just fine. I did have a bit of trouble believing she'd have taken all the blame and financial penalty of calling off the wedding and not told anyone the horrible things her ex did. And the fact that the new love interest was so involved with the ex's family really marred it for me. How would that work? Really? And it's worth noting that the blurb calls hims "the town's bad boy," but he's an ex-Marine cop. About as far from bad as you can get in a cozy, paranormal mystery. All in all however, I'd read more by Fox and Tavia Gilbert did a fine job with the narration.