I grabbed Shara and the Haunted Village and A Lesson for the Cyclops, both by Jeffery Getzin, from the Amazon free list. Though not listed as a series, both books follow the adventures of D'Arbignal, the self-proclaimed Greatest Swordsman in the World.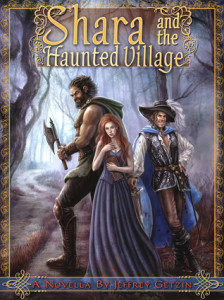 Description from Goodreads:
A Desperate Gamble
An ancient mystery, a legendary wizard, ghosts, magic, a demon … and Shara, an impoverished seamstress.
Shara has fallen on hard times recently. She's starving, has just lost her home, and she can't find work anywhere. However, a chance encounter with a a sociopathic giant and a charming rogue might just be her escape from her hand-to-mouth lifestyle. All she has to do is guide them to the haunted village she had stumbled upon when she was a child. 
But can she trust them?
Review:
This was pretty good for a novella. I say it that way because it also has a lot of the characteristics of a novella that annoy me. Namely, no world building, little character development, and a plot that boils down to a single, contextless and largely unexplained adventure. I know, that makes it sound horrible. But in 150 pages (if it's even that long) how much can even the most talented author include? It's a novella.
So, keeping in mind the limitations inherent in the literary form, it's pretty good. I enjoyed Shara and D'Arbignal. They were a little cliché—the innocent good girl with a tendency to cry and the dashing, fearless, hero—but I still enjoyed them.
The writing flowed well and it appeared well edited. So, for an extremely quick, fun read this one's worth spending an afternoon with.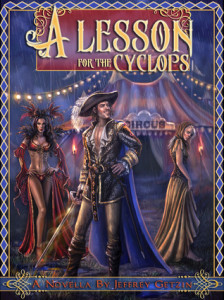 Description from Goodreads:
Dare to Hope?
Maria leads a lonely existence of silent misery. Horribly disfigured, she earns a meager living as a sideshow freak. Her very existence is one of mockery, contempt, and ridicule. She has no hope, no dreams. No future.
But when a dashing swordsman stumbles onto the circus grounds, wounded and feverish, Maria is able to imagine a life beyond the confines of her dreary world. Could a swashbuckling hero ever fall for a freak like her?
Slightly Spoilerish Review:
I have to be honest; I'm not generally a huge fan of novellas. They don't allow enough pages for a lot development. This isn't the fault of any author, just a characteristic of the genre. They're a little easier to take when it's a series following a single character, here D'Arbignal, because you feel you know at least someone going in. And, as this is the second of D'Arbignal's stories that I've read, I do feel as if I've got a handle on his personality.
In this instalment of his adventures he meets and restores the self-respect of a shattered woman. I enjoyed it, but also felt it was a bit shallow. He countered a lifetime of self-doubt and guilt in one conversation, miraculously (and apparently effortlessly) manipulated everyone involved in order to produce the outcome he desired and then selflessly donated staggering wealth to a practical stranger, before blithely walking away—fun, yes, but not particularly realistic or deeply explored. The reader never learns how he persuaded someone to gamble his livelihood away, for example, or how that person so peaceably accepted his loss. The happy ending also assumes everyone will keep their word once he's gone too.
So, all in all, I spent a pleasant hour or so reading this story, enjoyed it, but had to suspend a bit of disbelief to buy the ending.