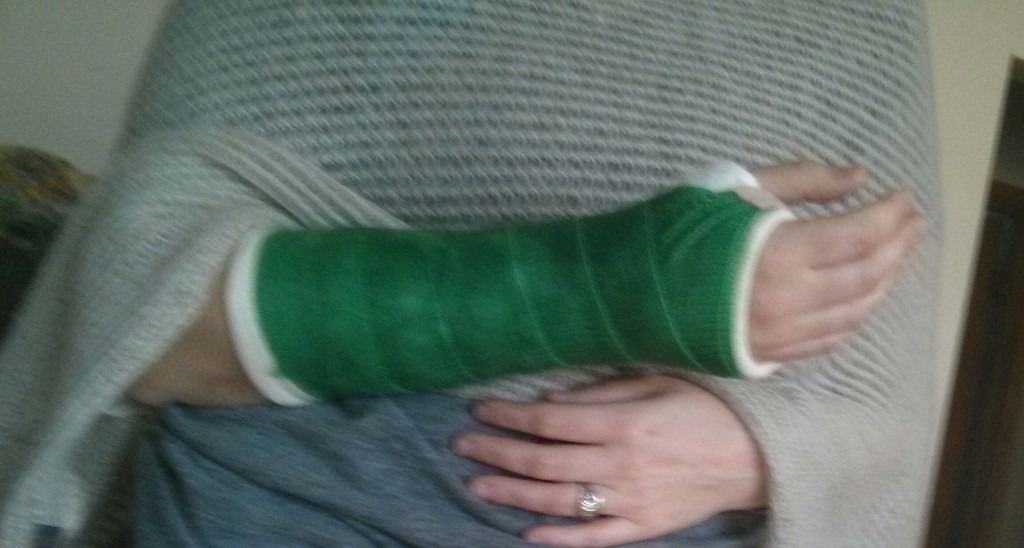 As you can see above, I've broken my wrist (and sprained the other one). I'm typing one handed, with my left (non-dominant) hand. It's awkward and slow. A full length review sounds like hell to produce. So, with the exception of the book I'm currently finishing (the X for my alphabet soup challenge), I'm going to focus on short stories that I can write brief—one or two line—reviews of for a while. And I think, instead of several posts, I'll just update this one every couple days. It's less than ideal, but so is a cast. On the upside, this should really un-clutter my TBR list.
Argg, I cannot believe I broke my arm!
---
Night, by J. Kavanagh: Interesting, but feels very much like the beginning of something longer, instead of a self-contained story.
Tea with Death, by Joel M. Andre : An interesting idea that due to poor execution comes across as didactic and dull.
The Insanity of Zero, by Michael Offutt: Interesting religious retelling, but ultimately too short to feel substantial.
Shadow Bound, by Garrett Leigh: Meh, not enough there to be worth my time.
The Last Titan, by Edward LangeLots of gore and destruction, but I never saw the point of the story.
The Fall of Ithar, by Kevis Hendrickson: Creative, but full of pointless Old English and contextless to the point of uselessness.
Sun Side, by J. Kavanagh: I enjoyed it and, unlike so many short stories, stands alone.
A Different Kind of Devil, by J. Matthew Saunders: Surprisingly good. A little cliche, but atmospheric and engaging.
Confinement, by Erik Haldeman: Meh, ok, but read like one giant info drop.
Betraying Nexus, by Richard L. Sanders: Suffers from over-simplified coincidences, but was amusing enough.
Secret Friends (The Monfits), by Gloria Riggs: Very obviously intended for children, but even so, it's very simplistic.
Blood in the Water, by Megan Derr: A cute Little Mermaid retelling/continuation. A little lean in the middle, but I enjoyed it.
Why, Why, Zed?, by Leigh Ellwood: OK. Had a surprise twist. Needed editing, the car that went from BMW to Porsche to BMW was distracting, for example. Continue reading →