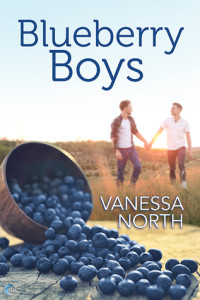 I received a copy of Vanessa North's Blueberry Boys from Netgalley.
Description from Goodreads:
Connor Graham is a city boy—a celebrated fashion photographer in New York. When his uncle's death drags him back to the family blueberry farm, all he wants to do is sell it as quickly as he can. Until he meets his uncle's tenant farmer. 
Jed Jones, shy and stammering, devout and dedicated, has always yearned for land of his own and a man to share it with. Kept in the closet by his church, family, and disastrous first love, he longs to be accepted for who he is. But now, with his farm and his future in Connor's careless hands, he stands to lose even the little he has. 
Neither man expects the connection between them. Jed sees Connor—appreciates his art and passion like no one else in this godforsaken town ever has. Connor hears Jed—looks past his stutter to listen to the man inside. The time they share is idyllic, but with the farm sale pending, even their sanctuary is a source of tension. As work, family, and their town's old-fashioned attitudes pull them apart, they must find a way to reconcile commitments to their careers and to each other.
Review:
Sooooo, I held off reading this book for a while because I often don't mesh with contemporary romances. I need a little extra oomph to make romance in general work for me. But I'd seen so many wonderful reviews of this book that I gave in and requested it from Netgalley……and I should have stuck with my initial instinct. This wasn't a winner for me.
Now, it was marvelously written. I liked the characters, both their personalities and their imperfections. I liked North's treatment of Jed's religion and its importance to him. And it was very sweet. But…but…well, I'm just gonna go ahead and say it. I was bored. It's a fairly straightforward romance. There are a couple challenges to overcome, but no real twists. And the challenges seemed overblown to me. I mean Blandford was 2 hours from New York. Seriously, I know a man who commutes that distance everyday for work, so I don't understand why this is such a barrier to a relationship.
Here's the thing though, I suspect my boredom was at least in part the result of me not relating to the primary events of the book. I've never had to come out to family. I've never had to negotiate my sexuality and my religious beliefs, etc., etc. Perhaps if I had, I would have been grabbed more fully by this plot. Which is to say that those who this is familiar to might find a homecoming here that I didn't. In this, I am perhaps just not the intended readership.
Outside of that, my only real complaints are that the attraction seems instant and based largely on being the only two gay men around and how neatly and easily it all wrapped up. [Slightly spoilerish] Jed decides to come out and then seek advice from the pastor immediately after the homophobic jerkface pastor leaves and the new conveniently liberal and accepting pastor comes in. (And there was no indication that this was purposeful.) Conner's brother, who had been hostile his whole life suddenly decides to try and correct his ways. Jed's homophobic family come around to accepting him in no time flat. It all just happened too easily and honestly it's just a little too pat for me. Plus, it's super sappy-sweet.
So, not a winner for me, but I suspect a home run for other readers