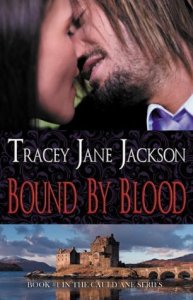 Tracey Jane Jackson's book, Bound By Blood, marks the second Bound By Blood book in my week long Bound By Blood reading challenge. (Phew, that sentence is a bit of a challenge too.) As a reminder, Bound By Blood Week is dedicated to reading five books in a row titled, you guessed it, Bound by Blood. I picked this up as perma-freebie at Amazon.
Description from Goodreads:
Dr. Samantha Moore is one of the youngest and most acclaimed researchers in the world. Her specialty is blood and she has been recruited by the largest pharmaceutical company in Scotland. For what purpose she cannot begin to imagine, but in an attempt to break out of her painfully shy shell, she throws caution to the wind and leaves her family and best friend behind in Savannah. Dr. Kade Gunnach is taking a chance hiring an outsider, but he's desperate to find out how to help his sister. He believes the key lies in her blood, but so far, no one has found the answers. When the new researcher walks into his office, he's unprepared for his reaction to her and the life-changing ramifications her arrival brings. They're drawn together by a force neither is prepared for, but Kade is holding something back. Something that could scare her away. When Samantha learns his secret, will she run? Will Kade be able to live with the answers he's been desperately searching for?
Review:
This was a sweet, low angst New Adult(ish) romance. Unfortunately, I'm not a big fan of sweet New Adult(ish) romances. But, oh well. The writing and editing is fine and for those readers whose primary interests are 'awww' moments and endless (and I mean endless) declarations of love, this is for you.
It's sweet, yeah, but that's about all it has going for it. Unfortunately, I found it booorrringggg. Other than two people becoming completely self-obsessed, nothing really ever happens. Even the romance is of the insta-love, I recognise you as my destined mate variety and both parties accepted it without question. There are a few almost unrelated side events I think meant to add a little action, but they're so secondary to the "I love you. "No, I love you more." "I've missed you." "An hour is too long to be away from you." Bla, bla, bla that they feel tacked on, at best.
What's more, it felt like a lot of the book is dedicated to setting up the future books. Already I know without looking what couple will be in book two and three. It made this book feel scattered and unfocused. Plus, I found myself increasingly annoyed to see two women, but especially the MC, as described as dysfunctional shy and scared and then shown to be quite bold and outspoken. The characters as presented didn't match the characters as described at all.
So, my final say is that it's a fine book for the sort who like this sort of book, but not for me.
On an unrelated side not, just because this kind of thing annoys me, who is that supposed be on the cover? Because Kade is Icelandic, with blond hair and blue eyes. So who is to be kissing the person we can only presume is supposed to be Samantha? Hmmm? If you're gonna put characters on the front of the book they need to match! It's just my opinion, but I feel strongly about it.