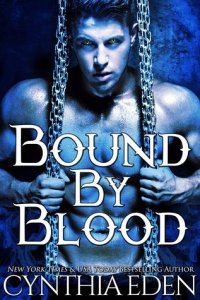 Here at the Sadie Forsythe blog, it is Bound by Blood week. I set myself the challenge of reading all five books on my TBR list titled Bound by Blood and I started with this one, by Cynthia Eden.
Description from Goodreads:
Vampires and werewolves have been blood enemies for centuries, but now a new threat is rising…demons are escaping from hell and those demons are intent on wiping out both the vamps and the werewolves.
In order to stop the demons, pureblood vampire princess Morgan LaBeaux agrees to the treaty offered by werewolf alpha Jace Vaughn. She'll mate with him, share her blood with him…and in return, the wolves will aid the vampires in this battle.
But Morgan doesn't realize just how dangerous the wolves can truly be. Jace has been waiting years to claim her. He's set a trap for his princess, and now that he has her, Jace doesn't plan to let her go. He'll send the demons back to hell, and he'll keep his vampiress—forever.
Review:
Soooo, this is a novella. I'm not a big fan of novella length stories and this is a perfect example of why. It has an interesting plot, a growly alpha wolf who manages to be extra alphay and sexy without being a jerkface, a strong, self-possessed heroine who knows what she wants and goes for it, Machiavellian machinations, some interesting double dealings, a good side character, etc. But at 89 pages none of it, NONE OF IT, is developed. There is no character development, no world building, no time for relationships to progress, nothing. So despite some pretty good writing skills this remains a complete let down.
I, of course, don't mean this review to be, 'I don't liked novellas. This is a novella, thus I don't like it.' It is what it is and what it is is a good story that is unfortunately rushed and unsupported because the author tried to cram it into 89 pages. Such a shame too, it could have been really good with another 150 pages.