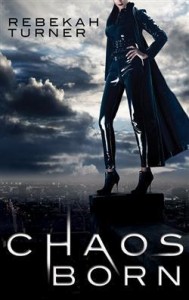 Chaos Born, by Rebekah Turner is one of those books I grabbed from the KDP free list based almost exclusively on its cover. Come on, it's awesome, right?
Description from Goodreads:
Lora Blackgoat, smuggler and mercenary, has been lying low after a job gone bad made her a laughing stock in the industry. When a childhood friend turns to her for help, Lora leaps to restore her reputation and starts hunting a killer who is stalking the gas-lit streets.
She never expects that her path will lead her to the Order of Guides, a sadistic militant religious organisation – or to Roman, a deadly and dangerously attractive half-angel warrior who also hunts the killer.
When Lora discovers that the killer has broken fundamental laws of magic to enter the city, she also uncovers a conspiracy that leads back into her own dark past.
Review:
Awesome, just awesome! I really liked almost everything about this book. Lora was a snarky, determined, tough badass who I enjoyed immensely. She managed to rush into danger without feeling suicidal, have adult relationships without coming across as easy, dispute with her friends and family without going overboard, and retain a sense of humour without it feeling forced. *Sigh* If only I could find more characters like her. 
My only real complaints are that the book could do with a little more editing to address the missing words and I never could get a firm handle on the world. The city names were real-world and there were cars, guns, etc., but there was also some magical, steampunk-like realm where modern technology wouldn't work and mystical creatures lived among humans. This could have been a dystopian future, an alternative reality, alternate history, etc. It doesn't define itself in any way and this left me perpetually confused on the matter. 
Despite that, I laughed a lot, rooted for Lora and her cohort, snickered at the mild romance, and generally just had a good time. At about 50%, I went ahead and bought the sequel, knowing I would want it as soon as I finished this one and I'll be starting any minute now.