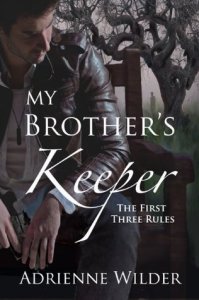 I grabbed The First Three Rules (My Brothers Keeper, #1), by Adrienne Wilder, from the Amazon KDP free list.
Description from Goodreads:
Marshal Jon Foster lost his purpose and his sanity the day he saw the image of his dead brother. The distraction saved Jon's life but cost the lives of innocent people including his best friend and partner. It was a price for survival Jon couldn't live with and was sure he'd never understand. 
Driven by grief and guilt he tried to escape his past by fleeing to a small town in the middle of nowhere. Only instead of peace, the memories festered. Then the offer of a stick of gum from a stranger changes Jon's life and puts him on a road out of the nightmare he's trapped in. 
Ellis Harper has lived the past twenty years isolated from the outside world and sole caretaker for his mentally disabled brother, Rudy. While Ellis loves his brother, he longs for a life he'll never be able to have. Shut away, his days consist of chores, endless cartoons, and games of Go Fish. A world that seemed to have no end until an innocent misunderstanding turns Ellis and his brother into a target for a town bully. 
It's a fight Ellis can never win on his own but thanks to a chance meeting with a stranger, he doesn't have to. What begins as a new journey in love for both men quickly unfolds into something neither of them could have ever imagined.
Review:
I think this is a case of finding the right reader. Though the book could have done with a little more editing, it was fairly well written and Jon, Ellis and Rudy were likeable characters. (Even if Ellis could have easily been a woman. He acted much like a typical virginal het romance lead.) So there are a lot of reasons for people to like this book.
However, it turns out not to fall in my preferred reading arena. The main reason is that I'm not particularly turned on by the whole clumsy first timer trope. Virgins who looks at their partners with big innocent eyes and ask things like, 'What do I do?' and say things like, 'but I want to make it good for you.' do nothing for me. In fact, all the gentle instruction sex turns me off. It's at all not my kink, so to speak. I know some readers love this stuff, but I'm not one of them. This made it hard for me to really appreciate this book.
As for the rest of the plot, the supernatural aspect of it is VERY light. Maybe it picks up in the rest of the series, but there is very little of it here. There is insta-love and then a lot of convenient events pushing the characters together, but it's all very sweet, if you like that sort of thing. It's also a little on the unbelievable side. But again, if you like the sort of thing, it's not too bad.
I would have given this a solid three stars until I reached then end and the stupid, precipitous cliffhanger. Grrr. For the right reader, this will probably be a big winner.