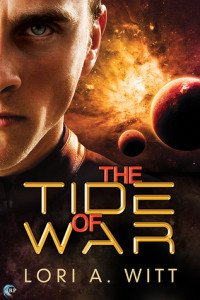 I received a copy of Lori A. Witt's The Tide of War from Netgalley.
Description from Goodreads:
Lieutenant Commander Kyle West is one of Earth Fleet's greatest fighter pilots. Every day, he leads his squadron into battle over Earth's cities in a seemingly endless war against a vicious alien race, defending his home and his loved ones.
Millions of miles away, the Fleet's Elite Squadron attacks from another angle, engaging the enemy on its home turf. Casualties are high, and the Squadron needs more of the Fleet's very best. But joining the Elite is a death sentence—a surety Kyle isn't willing to face. Until a devastating attack wipes out the family he refused to leave.
Commander Andrei Dezhnyov, an Elite Squadron gunner, isn't sure what to make of the cocky new American pilot. Kyle is equally uncertain about the snarly Russian, but as they warm up to each other, their tentative alliance becomes a deep bond—one that endangers them both when a daring and disobedient rescue reveals secrets that call into question everything they've ever believed about their enemy. Secrets that their .superiors would kill to protect.
Review:
This is one of those ho-hum, 'it was ok' kind of books. The writing was fine, the editing was fine, the dialogue was fine. There wasn't a lot of sex, but it was fine. Nothing in the book blew my mind, but I didn't hate it either.
Unfortunately, as much as I love me some M/M loving, I thought the book would have been stronger without it. Which is unfortunate, because the aspect of the book I appreciated most was that both men had serviceable, happy marriages that still accommodated their sexuality. One was bi and had an almost worshipful relationship with his wife who encouraged him to take male lovers. The other was gay and married to a lesbian, but had an obvious platonic love for his wife.
I liked the fact that Witt managed to show that love and sex don't have to  look the same way in every marriage and that having sex with someone else, when done in an open and accepting relationship, doesn't automatically invalidate the legitimacy of that same love for your spouse. Unfortunately, it also created a situation in which I very strongly felt that in order for a 'romance' to develop Witt had to get rid of the inconvenient wives and that sort of compromised the message a bit.
More than any of that though, the romance just wasn't necessary for the plot to work. In fact, I think it cluttered up what might have be a perfectly readable sci-fi novel otherwise. And it was an acceptable sci-fi. I thought it got bogged down in endless dog-fighting at times and the solution came about with shocking ease, just before the book ended rather abruptly. But it was an all right read.