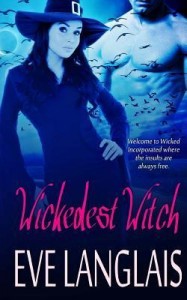 I snagged a copy of Eve Langlais' erotic novel(la), Wickedest Witch from the Amazon free list.
Description from Goodreads:
Thank you for engaging the services of Wicked Incorporated where the insults are given for free. 
Evangaline is not a very nice witch, but ask her if she cares. She does however have a healthy sexual appetite, and when an uncouth shifter starts appearing in her fantasies, it's not long before she makes her erotic mind play a reality. But everyone knows a wicked witch can't fall in love, or can she?
Ryker, a hot and muscled shifter, knows his size and domineering presence intimidates women, all except for one curvy witch he just can't get out of his mind. Set to a task only the two of them can accomplish, he discovers wickedness has its uses, especially in the bedroom.
Dealing with vamps, a wedding from hell and a cackling gnome named Rumpelstiltskin, will these two wicked beings survive and, even more disturbing, decide to stay together?
Review:
This is not a book to be taken seriously, not even as serious erotica (though it is plenty erotic). It is utterly ridiculous, in a good way. I laughed out loud quite a few times. Evangaline and Ryker egg each-other on nonstop. Their constant insults are a lot of fun.
Now, there isn't a lot of plot. So little in fact that you don't even find out who's behind the kidnapping scheme they're ostensibly trying to solve. The book essentially consists of one sexual fantasy/masturbation session after another until they finally have real sex and then it's just sex. What little plot there is essentially only serves to move them about so that they can have sex in different places. I never expect plot in erotica to start with, so I didn't find this particularly disappointing. It was more than made up for with humour.
This is the second of Langlais' books I've read and I really appreciate that she writes heroines that look like real, curvy women but are still sexy and confident in themselves. This almost makes her a heroine in her own right as far as I'm concerned.
I do have to say it did seem short. Amazon lists it at 207 pages. I have a hard time believing it's actually that long unless the paperback version is double spaced and sized 16 font. Still a fun read.