I picked up a copy of Leta Blake's Mr. Frosty Pants last November with every intention of reading it by Christmas. But we had kitchen construction going on last year and just about nothing went to plan. I don't think I managed any Christmas reading, which means I have it available to read during this year's Christmas Reading Challenge.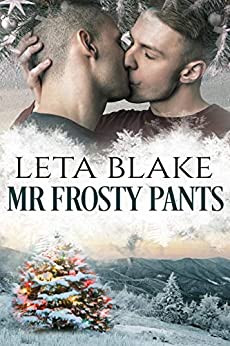 Can true love warm his frozen heart?
When Casey Stevens went away to college four years ago, he ghosted on his straight best friend, Joel Vreeland. He hoped time and distance would lessen the unrequited affection he felt, but all it did was make him miss Joel more. Home for the holidays, Casey hopes they might find a way to be friends again. But Joel's frosty reception reminds Casey of just how hard he had to fight to be Joel's friend in the first place. It's going to take a Christmas miracle to get past that cool façade again.
Joel isn't as straight as Casey believes, and his years of pining for Casey have left him hurting and alone, caring for his abusive father and struggling to get by. Unable to trust anyone except his rescue dog—and with no reason to believe Casey is interested in him for more than a holiday fling—Joel's icy heart might shatter before it can thaw.Can Casey and Joel's love overcome mistrust, parental rejection, class differences, and four long years apart?
Mr. Frosty Pants is a stand-alone, Christmas gay romance by Leta Blake featuring a virgin hero, childhood friends-to-lovers, second chance romance, and steamy mm first times.

I really appreciated having a male main character here who had spent some time in therapy and learned to recognize and ask for what he wants. Seeing Casey openly and honestly pursue Joel and Joel learn to be more open and honest in return was a pleasure to read. Blake faked me out several times, presenting scenarios that might turn into the tedious misunderstanding plot device, but I was relieve with what I found instead. I could have taken or left about half the sex scenes. There was a certain repetitiveness to them that bored me after a bit. But, all in all, I enjoyed this a lot (sunshine and Grumpy Pants being a favorite pairing of mine) and am awful happy to have book two at my fingertips.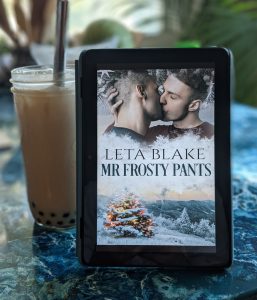 ---
Other Reviews:
Come back tomorrow. I'll be reviewing The Christmas Lights Battle, by Skylar M. Cates and Dreaming Of a White Wolf Christmas, by Terry Spear. Yep, I've had to start doubling up on my posts to fit all the reviews in by Christmas.