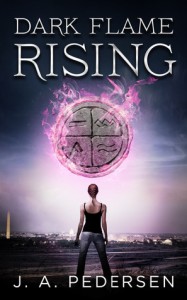 Author, J.A. Pedersen sent me an ecopy of his new YA novel Dark Flame Rising (Keegan Crowe Chronicles, #1).
Description form Goodreads: 
Keegan Crowe knows nothing of her past. But when she returns to Turtle Spring, the fourteen-year-old discovers that her parents were members of a secret society dedicated to preserving lost magic – a group destroyed for its knowledge and powers. Seeking those responsible, Keegan enrolls in a secretive school and delves into a hidden world of mystical powers, fabled creatures, and enchanted objects. There, she unearths a plot to stop an age-old threat and bring justice to a warring adversary. 
But Keegan rejects her discoveries. The scientifically-minded teen digs elsewhere for the truth, unleashing unexpected consequences. As friends and foes race to find a legendary treasure, Keegan stumbles upon a flaw in the plan. She now holds the key. But to prevail, she must find the strength to push aside her convictions and embrace her family's shadowy legacy.
Review:
This book tricked me. Not without my complacency, I'll admit, but it did all the same. When the author sent it to me, he was very clear that it is a YA novel, so I knew. But over and over again, I saw the cover (which is a great cover BTW) on my TBR list and wanted to read it, only to stop and remind myself with 'but it's YA, even if it really doesn't look YA.' I've burned out on YA a little, you see.
In the end, I gave in to my urges. And what do you know; it really is a YA novel. Not only YA, but lower YA, maybe even upper Middle Grade. The main character is 14 and much of the book reads like an Urban Fantasy version of Harry Potter's time at Hogwarts. She attends a magical school with quirky teachers, talking animals, spells, potions, etc. Heck, it even has houses of sorts, based on abilities and zodiac signs and Muggles, though here they're referred to as Turtles. Yes, there is a very Harry Potter feel to The New School.
I generally liked Keegan. She was smart and possessed a surprising backbone. She did not, however, feel 14. She was an accomplished hacker, blogger, intrepid journalist, fell in love, etc. In fact, many of the characters didn't feel their age. As an example, Cody, her love interest was 15 but could drive and held a job. At one point another group of characters of similar ages were shown to be drinking and partying in an abandoned house. I'm not naive enough to think teenagers don't do this, but it clashed with the idea of the main character being barley out of her tweens. 
I also found her dedication to skepticism in the face of overwhelming evidence to the contrary tedious at best and eventually even a little infuriating. I starting thinking we (she and the reader) wouldn't ever be able to move on if she didn't accept the obvious at some point. That she could retain her denial after the things she saw was almost magical in and of itself, not to mention a little unbelievable.
The writing seemed fine, but I had a serious problem with the use of endnotes to relate educational information. I found them very disruptive to reading the book. But they were also problematic in the sense that if a child is young enough to not know who/what Cleopatra, Excalibur, tarot cards, the Zodiac and many more are then they also probably aren't old enough to know how to follow a superscript to the end of a chapter. And, honestly, would they be all that interested in a history lesson?
Lastly, the book starts out at a breakneck speed. Information is thrown at the reader so fast that it's difficult to keep up. Then, once they reach Turtle Springs, things slow down almost too much. Perhaps this reduced pace felt exaggerated after the first couple fast paced chapters, but once Keegan hit the school, everything seemed to creep along. 
I did appreciate the implicit moral of facing the consequences of your actions. There is also an exciting twist at the end. An observant reader will see it coming, but it still opens up some interesting possibilities for future books. All in all, I'm torn on what to feel about this book. I didn't hate it but didn't particularly care for it either. However, I would bet 12-15 year olds might.