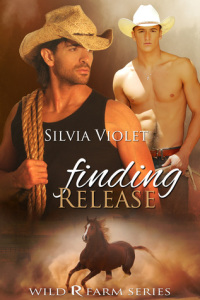 I bought a copy of Silvia Violet's Finding Release.
Description from Goodreads:
Coleman Wilder is a half-breed werewolf. Some days the tension between his human side and his werewolf instincts threaten to tear him apart. But the challenge of running a horse farm as a gay man in a conservative Tennessee town keeps him focused until he meets horse shifter, Jonah Marks.
Jonah's family insists that shifting is sinful, but Jonah longs to let his stallion run free. Desperate to escape his family's judgment, he asks Cole, his secret crush, for a job. Cole turns him down, scared his desire for Jonah will make him lose control. When Jonah's brother threatens his life, Cole struggles to save him and give them both a second chance at the life they've always wanted.
Review:
I love me some m/m shifters. I do. I was even intrigued by the idea of a horse shifter (though I did wonder were all that extra mass would come from). But the truth is that this book just didn't live up to its potential.
Scroll up. Read the book's description. Add in some serious insta-lust/love and a lot of inappropriately timed and out of nowhere sex, then read the description 50 more times. There, you've just read the book. It's so repetitive that I can't think of anything not in the description that was added in the ~200 of the story. It was just the same arguments, internal thoughts and mushy, lovey-dovey drivel over and over and over again. It was also incredibly predictable and all the challenges were overcome easily.
The writing itself was fine, but there was no world-building, no character development, no shades of grey to those characters, no growth of a relationship, no depth to the plot, no twists, no turns, no unexpected events, no finesse in the story, and no doubt from page 1 that everyone would have their awkwardly arranged, anything but naturally occurring happy ending. No, this one was not a winner for me.