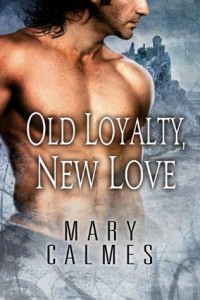 I recently bought a number of Mary Calmes e-books, as they were all on sale for a dollar. Old Loyalty, New Love was one of those books. (At the time of posting, I noticed it's still listed at $1.00)
Description from Goodreads:
When jackal shifter Quade Danas was banished from his pack for being gay, he spent years in the military escaping his father's prejudice before returning to civilian life as a bodyguard for Roman Howell, the teenage son of a very rich man. After Roman is in an accident that leaves him physically scarred and emotionally distant, Quade is the only one who can get through to him. As Roman becomes a man, he realizes what he wants—his bodyguard by his side and in his bed. Unfortunately, Quade can't seem to see past the kid Roman once was to the man he has become, certain Roman's feelings are merely misplaced gratitude. But Roman knows a lot more than Quade realizes, and he's used to persevering, no matter how many impediments life throws his way. He wants the chance to prove to Quade that he's strong enough for a jackal alpha to call mate. 
Despite the decades Quade has been away, and the heartache of his father's rejection, his inborn loyalty to the pack remains, and his abrupt departure left the jackal shifters without an alpha heir. As a psychopath shifter staking claim as alpha draws Quade back home, and Quade feels compelled to heed the call, he may be forced to make a choice he never anticipated. But doing so means he must leave Roman behind… unless somehow they find a way to make loyalty and love work together.
 Review:
This review pretty much sums up what I feel about Calmes books, but I'll try and give my opinion of this one.
I swear to God Mary Calmes books are like crack. I know they're all the same. I know objectively I should hate them because I generally hate all the tropes that make them up, but somehow they also manage to push some primitive button in my brain and I often guiltily enjoy them, despite my intellectual objections.
Having said that, this one was basically a fail for me. While I liked the idea of the friend/employee to lover idea I didn't like the way any of it played out. I didn't like that Roman needed to be horribly scarred and suffering from a sensory disorder in order to be compatible with Quade. I didn't believe that if Roman lusted after Quade since he was 16 and, even knowing Quade loved him for years, that he'd wait until he was 27 to suddenly divulge his love and then pursue Quade so aggressively. I didn't like that Roman basically became a weepy, giggly woman as soon as they'd had sex. I hated that Quade was all about Roman wanting to submit, when this was never integrated into the plot. I didn't believe a whole pack of families would allow even an alpha to pimp their daughters out. I hated the cult of Quade, the way everyone fell to their knees in worship of his alphaness just for standing in their presence. I thought it ridiculous that Quade's ex and ex-BFF would have waited 11 years and then expected him to step back into their lives. It wasn't at all believable. And worst of all I didn't like that, like, 90% of this book was just rehashing the same argument over and over and over again.
Nope, Calmes may be like my crack, but in this one, I think I got a bad batch.