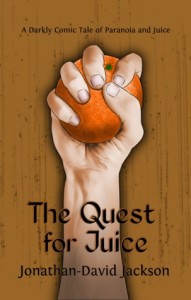 Author, Jonathan-David Jackson sent me an e-copy of his novel The Quest for Juice. I also notice that, at the time of posting, at least, it is free on Amazon.
Description from Goodreads:
Oscar has always lived a life of quiet paranoia, but now everything is changing. Suddenly, the bus is frequently late, his housekey won't fit in the lock, and someone has taken his juice, which was the one thing holding his life together. He strikes back against the people behind it all, but when he strikes too hard an innocent man ends up dead, and Oscar ends up in jail, diagnosed as a paranoid schizophrenic and facing life in a mental institution. On his journey to mental health and the truth, he has to make hard decisions about medication, trusting his own mind, dating a nurse, and whether that hedgehog can actually talk.
Review:
The Quest for Juice could best be described as quirky, in a somewhat dark sort of way. It is unquestionably a fun read, with lots of twists, turns and uncertainty about what is real and imagined. The writing is very readable and it's fairly well edited. I think I noticed one or two mistakes, hardly anything in the grand scheme of things.
I did find the end notes distracting, though most of them were quite funny. So, it kind of balanced out. By the end, things started to get just a little ridiculous, at least one character is just abandoned along the way (though, maybe he'll show up in the sequel) and I don't think the whole thing quite wrapped up in the end. Don't get me wrong. It ended appropriately (no cliffhanger), but the question of 'why Oscar,' or Hope for that matter, wasn't wholly addressed. Again, maybe in the sequel.
As a side note: for some reason, even though it's stated that it's set in the USA, I found myself thinking it was set in England more than once. It just feels British in some ill-defined sort of way, maybe it's English-like humour. All in all, a satisfying read, even if not a favourite.