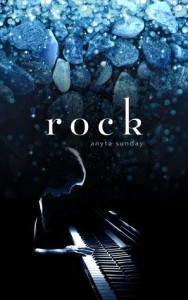 I bought a copy of Anyta Sunday's novel, Rock, in order to be part of a group read.
Description from Goodreads:
Igneous.
When Cooper's parents divorce, he finds himself landed in Week About—one week with his mum and one week with his dad.
Only, it's not just his dad he has to live with. There's Lila, too: The other woman, the one who stole the rock-solid foundation of his life.
And then …
There's Jace. Lila's son. Lila's smug, regurgitated-fish-scale-blue eyed son.
All Cooper wants is to have his family back the way it once was, but there's something about this boy that promises things will never be the same again.
Sedimentary.
Resisting the realities of his new life, Cooper and Jace get off to a rocky start. But rocky start or not, after hundreds of shared memories together, they forge something new. A close … friendship.
Because friendship is all they can have. Although it's not like they are real brothers…
Metamorphic.
But how does that friendship evolve under the pressures of life?
Under pressures of the heart?
Review:
This was a hard book for me to read. Part of it was circumstantial, as I picked it up at a time when I was a little emotionally compromised and therefore more susceptible to the turmoil in it. I joked that it felt like a death by a thousand cuts at one point. But part of the reason is just that it's a difficult read. Families, parents are human and sometimes their best effort isn't enough and children get hurt. In the beginning I had a very hard time letting go of Cooper's anger that had become my anger. I resented everyone involved. As pages went by, Jace chipped away at that until eventually that forgiveness spread to the rest of the family.
Similarly, I spent a lot of time hurt and angered by Jace, wanting Cooper to inflict a lash or two in return. But as pages went by and Cooper's understanding grew I was able to see that Jace too was suffering, just in a different way than Cooper. I think that must take a lot of skill for a writer to present a reader with one POV and still show growth in perspective without ever coming out and saying it. Part of it, especially when Cooper is young, is that he's a bit unreliable and biased as a narrator, but I don't know that that's all there is to it.
I did think the mothers, both of them, were placeholders. The story here is really about the boys and their father. The book has these two shadows of amazing women and both feel like tragic cutouts. Neither of them were as well developed as the other characters.
I loved the writing style, the word choice and flow. I enjoyed the rocks as a running theme, though I didn't really feel compelled to run out and look up meanings or anything. I just thought it was a nice thread running throughout the book. All in all, quite enjoyable.