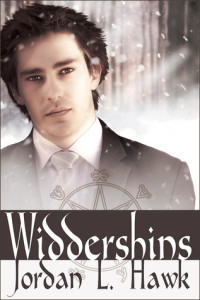 I bought a copy of Widdershins, by Jordan L. Hawk.
Description from Goodreads:
Some things should stay buried.
Repressed scholar Percival Endicott Whyborne has two skills: reading dead languages and hiding in his office at the Ladysmith Museum. After the tragic death of the friend he secretly loved, he's ruthlessly suppressed any desire for another man.
So when handsome ex-Pinkerton Griffin Flaherty approaches him to translate a mysterious book, Whyborne wants to finish the job and get rid of the detective as quickly as possible. Griffin left the Pinkertons following the death of his partner, hoping to start a new life. But the powerful cult which murdered Glenn has taken root in Widdershins, and only the spells in the book can stop them. Spells the intellectual Whyborne doesn't believe are real.
As the investigation draws the two men closer, Griffin's rakish charm threatens to shatter Whyborne's iron control. When the cult resurrects an evil sorcerer who commands terrifying monsters, can Whyborne overcome his fear and learn to trust? Will Griffin let go of his past and risk falling in love? Or will Griffin's secrets cost Whyborne both his heart and his life?
Review:
While reading Widdershins one word kept repeating through my head—CUTE, cute, cute, cute. Then I thought how refreshing it was to have two strong sexy men who weren't alpha-assholes. Yeah, Griffin gets a little bossy in the bedroom, but both men are pleasantly beta-like. I liked it. They're also a little older than the average romance hero and I always like meeting a non-nubile twenty-year-old, with a little life-experience in a lead role.
The villain was appropriately evil, while the supporting bad guys had enough grey to make them interesting. There was a strong, kick-ass female character (almost unheard of in the m/m genre, in my experience). Yes, Christine for the win! The sex was hot, without ever cluttering the story and I enjoyed the writing.
So, lots to like about this book. My only real complaints were a FEW editing slips and I didn't think Whyborne got enough of credit or…is there a word for having everyone see how horribly they'd been misjudging him? Anyhow, that. But I suspect that's because he needs that same persona to carry on into future books. (Speaking of future books, this one ends. It's not a cliffy.)
I'm calling it a success on all fronts.