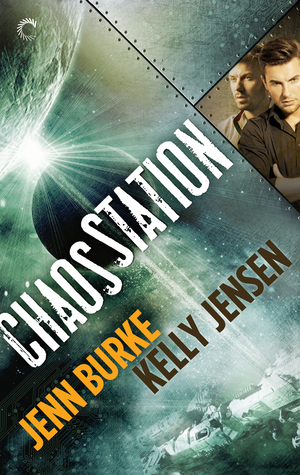 I purchased a copy of Chaos Station, by Jenn Burke and Kelly Jensen.
Description from Goodreads:
The war with the alien stin is over, but Felix Ingesson has given up on seeing his lover, Zander Anatolius, ever again. Zander's military file is sealed tighter than an airlock. A former prisoner of war, Felix is attempting a much quieter life keeping his ship, the Chaos, aloft. He almost succeeds, until Zander walks on board and insists that Felix isn't real.
A retired, broken super soldier, Zander is reeling from the aftereffects of his experimental training and wants nothing more than to disappear and wait for insanity to claim him. Then he sees footage of a friend and ally—a super soldier like him—murdering an entire security squad with her bare hands and a cold, dead look in her eyes. He never expected to find Felix, the man he'd thought dead for years, on the ship he hired to track her down.
Working with Felix to rescue his teammate is a dream come true…and a nightmare. Zander has no exit strategy that will leave Felix unscathed—or his own heart unbroken.
Review:
I enjoyed this. It walks the line between romantic sci-fi and romance in space, and honestly I'm not sure which side it falls on. Either way however, I liked it. 
It's only about 200 pages long, so it's not super deep and characters aren't as well-developed as they might be if the book had another 100 pages. But for a as short as it is, Burke and Jensen create a likable cast and enough of a world to give them life. I rooted for Felix and Zed. My heart broke for Emma. And the rest of the Chaos crew were fun too. 
I did think it dragged a bit in the middle, not progressing in plot as much as you might expect. And the rescue was a tad anti-climactic and border-line repetitive. But overall, I can't wait to read book two.