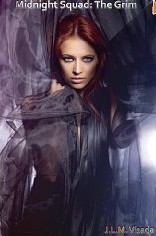 I grabbed J.L.M. Visada's 

Midnight Squad: The Grim

 off of the KDP list.
 Description from Goodreads:
Sergeant Joseph Reaper has fought all around the world, but when his last mission ends in tragedy he returns to America a broken man. He is so mentally, and spiritually damaged that he is sent to a mental institution where they treat all his statements about Jinn's and magical torture as the ravings of a madman. After being told all that all his suffering was a lie Joseph finally escaped and has been in hiding since. When they finally find him, the military needs him to build a new team. This team is unlike any he's ever led. A group of strong willed supernatural women will challenge Joseph in ways he's never experienced, or expected. These five powerful women will force him to reexamine himself, and what he's always believed. Leading a beautiful Scottish vampire, a gothic witch, a sensitive lesbian werewolf, and the ghost of an excommunicated nun would be a lot to ask any soldier, but they may be asking too much when Joseph is asked to lead the very same Djinn that tortured him and his team for three months. Joseph is determined to give his best. He's trying to pull the team together, but there are complications. He keeps finding himself distracted by Penny despite all the danger that might come with having a relationship with the vampire. Also, when Alhambra tells him that he's in danger Sergeant Reaper can't decide if it's just another attempt by the Jinn to mess with his head, or if there is a larger conspiracy. Either way Joseph is going to do everything he can to protect his team even if it kills him, and it just might. This is a full length novel, and the first of a new urban fantasy series.
**Spoiler warning: I'm not giving away the ending or anything, but I definitely am discussing events that occur. I don't want to ruin anyone's surprise. You are warned.***
Here are my thoughts on the book, both bad and good. There are plenty of both. I'll start with the negs so that I can end on a positive note. 
Negatives: I probably would have liked this book better except for two things: all of the proselytizing and the fact that it reads like a 14 year old boys dream journal…wet dream journal. (It's a strange combo I know.) Lets face it Joseph Grim has a harem. He is one man alone with seven women. One is old, one is fat (in other words undesirable), and one is unwanted for another reason. Of the remaining four…yeah, he manages to sleep with all of them. No, that's not quite right. They sleep with him (and there is every indication that they will continue to do just that). He doesn't even have to work for it. Women wake him up with blowjobs, attack him en masse, ogle him, grope him and generally treat him as a sex god. Hot oil wrestling, lesbian sex, copious amounts of fellatio/cunnilingus in a variety of forms, motor boating, peek-a-booes, and more all make appearances. Grim is apparently the only one who can give these women what they need, and surprisingly his combatant skills aren't the ones required for most of the book. Seriously, even the lesbian needs to fuck him regularly. What the hell's up with that? Plus, I have a hard time imagining that the two people who have histories of rape would be so ready to start sexing things up. Trauma is traumatic because it is traumatizing after all.
I'm ranting a little bit, I know. But these are obviously a man's fantasy, not a woman's. Don't get me wrong, the sex is smokin' hot (literally). I have no complaints on that front. It is only when all of it, taken as a whole, is considered that I find it problematic. I mean what man wouldn't want to find his true love, who insists they keep a barely legal female sex pet, AND have a monthly alternative thrown in? Wouldn't want to get bored or anything. Oh, and he gets to be all-powerful and a chosen of God…and commended by the president for his efforts. Honored on earth and in heaven apparently. The only thing his life is missing to be perfect is a happy family. Wait, no he has that too, two loving parents and six sisters he gets along with. I started to gag after a while. Lastly, the book REALLY needs a new edit. There are a lot of missing words/letters and that, then and than are regularly interchanged. The tense and narration could be shored up too. There is frequently a third person, past tense description followed by a first person, present tense exclamation. It is a little hard to keep up with.
Positives: Yea it's not all bad. The book is hilarious and the humor starts on the copyright page. The women may treat Grim as a sex toy, but they also rag on him constantly. He is the butt of endless jokes and teased mercilessly. He takes it all in stride, never getting truly mad (even at his archenemy). This gives the reader implicit permission to laugh at him and I did, loudly and often. I liked how much thought went into how the vampire's fangs work. I actually consider it an improvement on traditional fangs. While I might have gotten sick of all of the 'Jesus died for our sins stuff' (seriously, I could almost hear the children singing 'Jesus loves me! This I know, 'cause the Bible tells me so' in the background), Jesus himself was an affable character. Plus, "Christ…our Lord and Savior…and apparently cockblocker supreme." is the most marvelously irreverent sentence I have ever read. The Colonel is one of the best characters I've come across in a long time. I really appreciated his contradictory constitution as well as the fact that he is presented as loved and idolized by his son. His character type is usually made out to be cruel and heartless. I liked seeing it depicted as human.
I can completely imagine this book getting straight five star rating from its male readership and largely one star rating from the women readers. But then no book can be written for everyone (and some women may actually like the more male centred scenes). It's funny. The sex is steamy and if you overlook the editing issues the writing is really good. It ended with enough of an opening for a sequel so it will be interesting to see what happens in the future.
Note: The author has since mentioned that he is working on a new edit of the book.