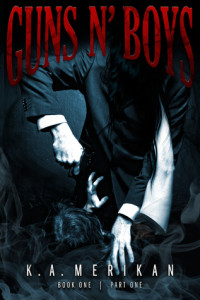 I downloaded a copy of K. A. Merikan's Gun's N' Boys from the Amazon free list.
Description from Goodreads:
 Love is sour like a Sicilian lemon.
The Family is always right. 
The Family doesn't forget. 
The Family pays for blood in blood. 
Domenico Acerbi grew up in the shade of Sicilian lemon trees ready to give his life for the Family. Ready to follow orders and exceed expectations. A proud man of honor.
When Seth, the younger son of the Don is kidnapped, it's Domenico who is sent to get him back. The man he finds though, is not the boy he knew all those years ago. Lazy, annoying, spoiled, and as hot as a Sicilian summer.
Seth Villani wants nothing to do with the mafia. Unfortunately, he doesn't get a say when the Family pulls him right back into its fold after his mother's death. Thrown into a den of serpents otherwise known as the Villani Family, Seth has to find a way to navigate in the maze of lies. But when Domenico Acerbi, the most vicious snake of them all, sinks his fangs into Seth, the venom changes into an aphrodisiac that courses through Seth's veins. 
Domenico knows his life is about to change when he gets the order to train Seth up to the role of future Don. Seth isn't made for it. He isn't even made. But a man Domenico knows he would never have to fear might just be someone he's always needed.
If Seth is doomed to follow in his father's footsteps, he might as well enjoy himself—with the most intoxicating man he's ever met. Maybe he can even fool himself into believing that Domenico isn't a handsome sociopath who kills for a living.
 Review:
If I was going to use ratings I would call this a 2.5, but I'd round up for being well enough written. My problem with it was that I expected some gritty Mafia action, with a hot sex on the side. What I got was almost literally just two men in a room fucking and fighting. It wasn't even physical fighting for the most part, just bickering like kids. Sure some of the sex was hot and, to be fair, they occupationally went and fucked or fought in a park or a new apartment, but after 300+ pages of it I just got bored.
The Mafia played almost no part in the book beyond a device to force them together and you never learn the reasons behind the decision that led to the events. No doubt you will in future books, but I won't be bothering with them. So I'll never know.
I found neither character particularly relatable either. Dom was sexy, sure, and some of his confused moments were surprisingly endearing in their rarity, but he was basically an asshole, lacking in even basic empathy or sympathy. Plus, he was 'grooming' Seth, so all his actions are suspect. Seth, for all his hot bod, etc was annoying and whiny. Mostly I just wanted him to shut up.
It's a fine book if all you're looking for is porn with plot, but I was hoping for something more. Also, as a side note, I hate all this 1.1, 1.2, 1.3, 2 numbering. Why can't it just be 1,2,3? Anything else makes me think of novellas between books and those annoy me too.